Savely, VR, Stricker, RB, Morgellons Disease: the Mystery Unfolds
Expert Review of Dermatology
2007, Vol. 2, No. 5, Pages 585-591
---

Bransfield, RT, Morgellons Disease (Letter to the Editor)
Psychiatric News. 
Harvey, WT. Morgellons disease.
J Am Acad Dermatol. 2007;56:705-706.
---

Psychology Today Magazine
March 6, 2007
The Morgellons Mystery
---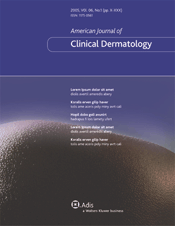 American Journal of
Clinical Dermatology
2006, Volume 7, Issue
authored by:
Ginger Savely, NP,
Mary Leitao and
Raphael B. Stricker, MD
The Mystery of Morgellons Disease:
Infection or Delusion?
---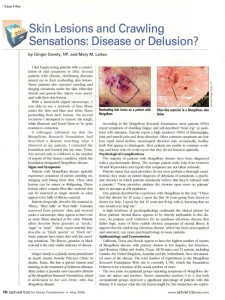 Advance For Nurse Practitioners – May 2005
National Nursing Publication's
article on
Morgellons Disease
authored by:
Ginger Savely, FNP-C
and Mary M. Leitao
---