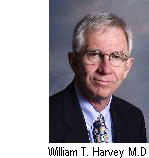 Physician Information
The Morgellons Research Foundation is frequently contacted by clinicians seeking treatment advice for patients believed to have Morgellons disease. Unfortunately, at this time there is no generally accepted treatment for this disease, although antibiotics, anti-parasitics and anti-fungals have been helpful to some patients. See our FAQs section for more information.
Message from William T. Harvey, MD, MPH, MS, MRF Medical Director
As clinicians, we presently characterize an illness by its time course (history and symptoms), observable physical abnormalities (signs), technical measurement aberrancies (lab, EMG, etc.). Curiously, although Delusions of Parasitosis (or DP, which can be a misdiagnosis for patients with Morgellons disease) has been in common use for decades; few such facts make up its definition. Such is not the case with Morgellons disease, as many elements of this disease have been collected and collated. Although the final case definition of this disease is still "in process", it includes patterns of abnormalities outside of the skin component. The typical diagnosis of Morgellons patients as DP patients has resulted in a strictly psychiatric label, and ineffective treatment. By simply avoiding the trap of assuming all the illness is psychiatric, any astute clinician will get a thorough history of all problems bothering the patient. The accompanying malaise, fever, measurable memory deficit, tachycardias, elevated fasting glucose and insulin, and elevated cytokines TNF-alpha and IL-6…among many others…will lead far from a solely psychiatric diagnosis.
This now becomes a primary battleground of the so-called "evidence-based-medicine." Take care that, as thinkers and scientists, your search is via facts…as best we can find such…and not a few scattered unfounded assumptions focused on a single disease element.
Our power as physicians to resolve illnesses is our ability to think, not to cookbook our medicine. The latter is not evidence-based medicine. The truth, as it always has, sits in front of us.
Morgellons Case Definition
The Medical Advisory Board of the Morgellons Research Foundation (MRF) developed a Case Definition of Morgellons Disease. This Case Definition is the most recent revision. Until a more rigorous definition has been submitted for review, this case characterization will remain in place.
New Case Study—Read the latest Case Study on Morgellons Disease.
Recommendations and Letters
Review these recommendations, letters, and other publications to learn what physician are saying about this recently discovered disease.
Important CDC Physician Recommendation
The CDC recommends that physicians with Morgellons/Unexplained Dermopathy patients contact their local or state public health departments. CDC further recommends that since there may be a great deal of variability in where physician inquiries are handled within a given Health Department, it is reasonable for the physician to start with the communicable diseases or environmental health units/divisions at the local or state Health Department.
Click here to access the State Health Department websites.
CDC Letter to State Medical Associations
Department of Health and Human Services
CDC Letter to State Medical Associations
Physician Letter to the Editor: Robert C. Bransfield, M.D., DEFAPA, PC
Morgellons Disease
Psychiatric News
Physician Letter to the Editor: William T. Harvey, MD, MPH
Morgellons Disease
Journal of the American Academy of Dermatology
Physician Letter to the Editor: Bradley Hope, MD
Differential Diagnosis for Parasitosis
Cortland Forum-Primary Care Physician Magazine
Letter to clinicians from Randy S. Wymore, Ph.D., and Rhonda Casey, D.O. at Oklahoma State University
About Morgellons Disease